SEMINAR AT HSS OF JESUS, KOTHAD - ACADEMIC EXTENSION
13/09/ 2019
In accordance with National Computer Security Day (November 30),The Department of Computer Science   organized   a class on "GENERAL AWARENESS OF COMPUTER CYBER SECURITY" for students  at HSS OF JESUS,KOTHAD  on 13th NOVEMBER 2019. Teacher co-ordinators were  Anupama  Dev and Kukku Joy .
ACADEMIC RESEARCH PAPER WRITING
17/09/2019 – Seminar hall, St.Paul's college , Kalamassery
 Resource Person :  Dr. Asha E.Thomas IQAC Coordinator and Associate Professor
PG Department of Commerce St. Paul's College. Kalamassery.
Workshop on Academic Research Paper writing was jointly organized by Department of Business Administration and Department of Computer Science on September 17th 2019 at 2.30 pm at St. Paul's College. The session was inaugurated by Associate Manager Rev.Fr Joseph Antony Palliparambil and was attended by faculties from various departments and PG students.
No.of Participants :19
VISIT AT HOUSE OF PROVIDENCE,KACHERIPADY –SOCIAL OUTREACH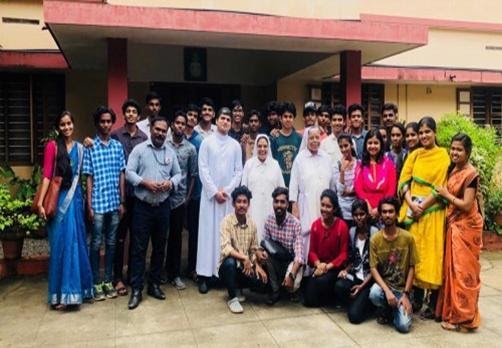 26/07/19 –House of Providence
The students and faculties of Computer Science visited House of Providence, Kacheripady as a part of outreach activity on 26th July 2019.There were around 35 students and 4 faculties. The students wholeheartedly participated in various music and dance programmes  and they arranged entertainment programmes for inmates
No of Participants : 39
12 /07/2019
During  academic year  (2019-20) department of Computer Science in collaboration with BBA conducted UBA survey at Mookkannoor village on 12th july 2019 as a part of our extension activities. An  MoU was signed with this village.
No of Participants : 21