SCHOLA BREVIS – DEPARTMENT OF MATHEMATICS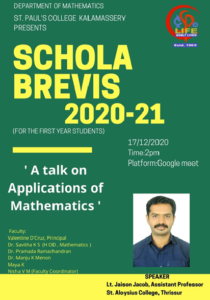 Date: 17/12/2020
The Department organized a talk by Lt Jaison Jacob, Assistant Professor, St Aloysius College, Thrissur for the first-year students. The objective was to help them gain an idea on the wide reach and application of the subject they had chosen to pursue – Mathematics.
ORIENTATION PROGRAMME FOR FIRST YEAR UNDER GRADUATES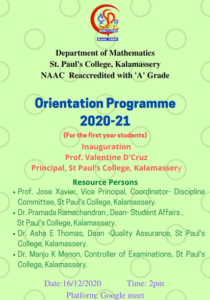 Date: 16/12/2020
In association with the Departments of Physics and English, the Department of Mathematics organized an in house orientation programme for its students. The Deans of Discipline, Student Affairs, Quality Assurance and the College Controller of Examinations addressed the students, covering various aspects of College life.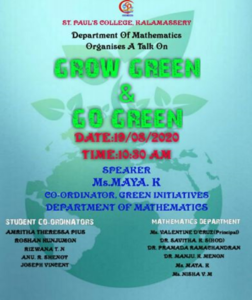 Date: 19/08/2020
A Programme on  Green Initiative  was organized by the  Mathematics  Department on 19/8/20 from 10.30am-11.30am. Ms. Maya.K handled the session " Grow Green & Go Green".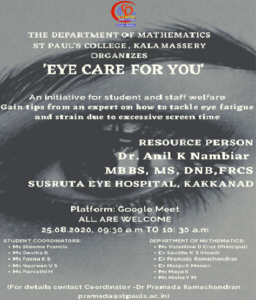 Date: 25/08/2020
As an initiative for student and staff welfare, the Department of Mathematics decided to organize a programme with a difference – an interactive session with an eye care expert – Dr Anil K Nambiar, ophthalmologist. The objective was to gain tips on how to deal with eye fatigue and stress due to excessive screen time.
ONLINE QUIZ "INDEPENDENT INDIA"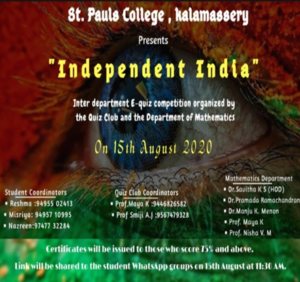 The Quiz club of St. Paul's College conducted an online quiz "Independent India" in association with Maths Department from 12.30pm-6pm on 15/08/2020.   Certificates were issued to those who scored 75% and above.
ONLINE QUIZ "INDEPENDENT INDIA"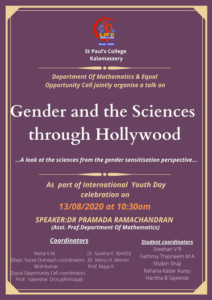 Date: 13/08/2020
As part of an initiative to create awareness on gender issues, the Department of Mathematics organized a talk for the post graduate students of Mathematics, Physics & Chemistry. The session was organized in collaboration with the Equal Opportunity Cell of the College.
"MUISTO" – INTER DEPARTMENTAL VIDEO COMPETITION
Date: 03/08/2020
Topic: My class @SPC, my second family!
To help students beat the lockdown blues, the Department of Mathematics decided to organize an 'online video competition' – wherein students can create a collage of their college memories.
MATHS CLUB INAUGURATION & ONAM CELEBRATIONS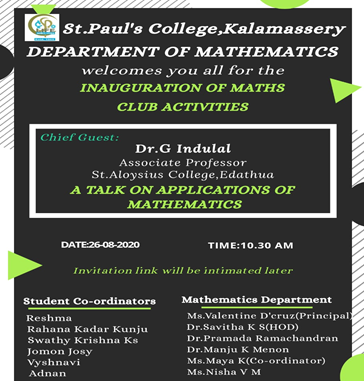 Date: 2/08/2020
Maths Club  activities were  inaugurated by Dr.  G. Indulal , St. Aloysius college, Edathua on 26/08/2020.  After the meeting we conducted " Onam celebrations".
REMEMBRANCE MEETING OF A. P. J. ABDUL KALAM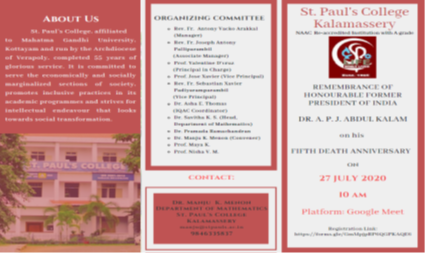 The Department of Mathematics, St. Paul's College, Kalamassery organized a Remembrance Meeting of Dr. Kalam on July 27, 2020 via the Google meet platform. The response we got after launching the brochure was overwhelming Padmavibhushan Dr. G. Madhavan Nair, former Director of ISRO and Dr.Ambat Vijayakumar, Emeritus Professor, CUSAT were the speakers.
A One Day Workshop On Geogebra
A One Day Workshop On Geogebra was organized on 07.08.2019 for the higher secondary school teachers. Dr E Krishnan, Formerly of University college, Thiruvananthapuram was the resource person. The workshop turned out to be a success with 39 teachers from 26 various institutions including 2 from Kuwait.
AHIMSA IN THE 21ST CENTURY
As part of the Gandhi Jayanthi Celebrations of our college, The department organized an inter departmental COLLAGE COMPETITION on the topic " AHIMSA IN THE 21ST CENTURY".
 The department celebrated FIBONACCI DAY ON 25.11.2019 in which students presented a seminar on "Fibonacci numbers and Golden Ratio in various fields of Science and Nature". Students also organized various games based on this topic on the same day and winners were felicitated.
The NATIONAL MATHEMATICS DAY was celebrated with this year's theme as "MATHS FOR ALL" on 18.12.2019. As part of the celebrations department organized a Mathematics exhibition, Quiz, Games and a talk on Ramanujan's life and works on that day.
A NATIONAL WORKSHOP ON NUMERICAL ANALYSIS WITH PYTHON
A NATIONAL WORKSHOP ON NUMERICAL ANALYSIS WITH PYTHON for the college teachers, students and research scholars was conducted on 06.01.2020.  Dr. Gnanavel from Central university, Kasargod and Dr Jeeva Jose, BPC college, Piravam were the resource persons and both the sessions were much appreciated by the participants. 
On 20.6.16 Department conducted  an intercollegiate fest successfully. We arranged various competitions like Power point presentations, Quiz ,Treasure Hunt etc. Students from various colleges Participated in the programme.